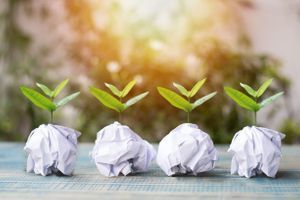 100% Recycled paper is now more affordable than ever


When recycled paper was introduced it was considerably more expensive than printing on traditional paper. Businesses had to make the decision to spend upwards of 25% more – something that most companies could not justify in their bottom line. It doesn't seem right that a business owner would have to make a choice.
Our team at DUKE has recently partnered with a local paper company that has introduced a line of 100% recycled uncoated paper that is comparable to non-recycled paper in cost and quality. They contain a maximum amount of post-consumer waste and are always manufactured to reduce their environmental footprint. We recommend these for a wide variety of projects including: annual reports, brochures and direct mail.
Why choose 100% recycled paper?

Saves trees and water.
Reduces solid waste and greenhouse gas emissions
Available in several text and cover weights designed to deliver rich color quality
To contact us please click here