Igniting Opportunities
Igniting Opportunities
Heeter's acquisition of Duke Printing is sparking something new for our clients – new services, new innovations, new solutions.

Founded nearly 50 years ago, Duke is known in the printing industry for implementing the latest innovations and technologies. We take pride in delivering high quality products, on time every time. And we are continually exploring options and opportunities to better serve our clients.

It is this business approach that set the stage for our recent acquisition by Heeter, a print and data solutions company based in Canonsburg, Pennsylvania, whose reputation is just as strong as our own.

Heeter's presence in Pennsylvania is a step forward for us in meeting today's demand for redundancy in services and automation. Their business, along with other strategic partners they have lined up across the country, allow us to ensure continuity and uptime for our clients. We will also expand our use of Imperium™, Heeter's customized web-based dashboard that simplifies workflows for clients, enabling them to more efficiently manage jobs. Additionally, the complementary suite of services between Duke and Heeter enable us to expand the breadth and depth of solutions we are able to offer our clients.

Our companies have synergies in how we run our businesses, both operationally and culturally, making this acquisition virtually seamless. With mirroring corporate visions, complementary service offerings and synergies in clientele and culture, Duke's acquisition by Heeter is beneficial to each company and our clients. 

Frequently Asked Questions

Q: What is the Duke announcement?
A: On May 14, 2021 Duke Graphics, Inc was acquired by Heeter, a print solutions company located in Canonsburg, PA. This acquisition is Heeter's first in the Cleveland market. This investment improves  Duke's position in the Mid-Atlantic region and signifies the company's continued commitment to advancing our innovative print and data solutions for our growing customer base. The terms of this acquisition are not disclosed.

Q: Who is Heeter?
A: Founded more than 75 years ago, Heeter is a print solutions company located in Canonsburg, PA, just outside of Pittsburgh. Heeter is known for their continual evolution and innovation in the printing industry, and has a high quality reputation that mirrors that of Duke.

Q: What are the main benefits of this transaction?
A: This deal enhances both Duke's and Heeter's comprehensive print and technology solution offerings to customers and supports each company's strategic growth initiatives.

Benefits to Duke by strengthening our core business and expanding our footprint
Increased revenue, scale, redundancy and production economies

Additions to the technology platform

Cross-selling and up-selling opportunities of Heeter products and solutions to our customers

Under the Heeter umbrella, we become one of the largest print solutions providers in the mid-Atlantic region and a premiere provider nationally
Benefits for all customers by strengthening our value proposition:
Innovative technology integrations that focus on optimizing our client's workflow surrounding the design, ordering, production, fulfillment and distribution of materials

Expanded scale, capacity and excellence that will ensure our client's projects, whether direct mail, commercial print, digital print, kitting or fulfillment, are provided economically, accurately and on time

Redundancy of operations

A growing team of industry professionals acutely focused on assisting our customers in the attainment of their goals and objectives, and helping them solve their toughest problems
Benefits for our supplier partners:
A goal of this acquisition is to add more value to our supplier partners by exponentially adding growth to their product lines that comprise our comprehensive solutions: offset print, digital, fulfillment, direct mail, promotional products business and technology solutions.

Impact on Business Operations
Q: What impact will Duke customers feel because of this strategic acquisition?
A: Our goal is for this transition to be seamless for all customers. In the initial days, our customers will be provided with information on Heeter and contact details for additional questions or support. Duke customers will continue to have the opportunity to consult with their Ohio-based salesperson for a wider variety of comprehensive solutions and innovative products.

Q: Who should customers contact for their print service needs?
A: Heeter and Duke have coordinated their efforts to ensure a smooth transition for all customers. Customers can contact their current sales or client services representatives for more information on this announcement, as well as for any print needs moving forward. We will continue to communicate additional updates to all customers moving forward.

Q: Will Duke employees be joining Heeter?
A: Yes. Led by Blake and Chris Leduc, Duke employees will join Heeter, effective May 14, 2021. This addition of our employees augments Heeter's existing team, creating a united team of product experts, production team members, sales and service support.

Q: How will Duke operate within Heeter?
A: Heeter recognizes the excellent reputation of the Leduc family along with the strategic and logistical value that Duke offers to the Cleveland marketplace. Heeter is committed for the long term in growing its presence in Ohio. So, Duke will continue to operate out of its current location.

Duke will continue to use our existing brand with a tagline that conveys that we are now a Heeter Company.

Our logo will also reference that we are "now powered by Imperium."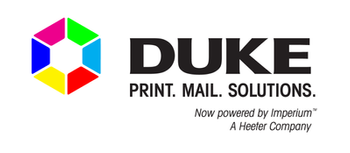 Q: What is Imperium™?
A: Imperium™ is Heeter's customized web-based dashboard that simplifies workflows for Heeter/Duke clients, enabling them to more efficiently manage jobs.